An important piece of paper in land records or bhumi records. Along with this, plot maps, house, and farm records are also important for official work. So the Odisha government gives us the option to view our land record through the internet. The Government of Odisha has released an online website portal named Bhu Naksha Odisha. So in this article, we will discuss the Bhu Naksha Odisha website portal.
In past, if we needed land records then we had to go to the tehsil office to get land records but now you can download land records at your home without any problem. All it needs is an internet connection. In past, people get land records at the tehsil office and the process is completely offline. The records required a lot of time at that time but now it is easy to download from the Bhulekh Odisha website.
So if you want to download land records from Bhu Naksha Odisha then you will need some documents to view the land records. We will provide everything in this article, read this article carefully.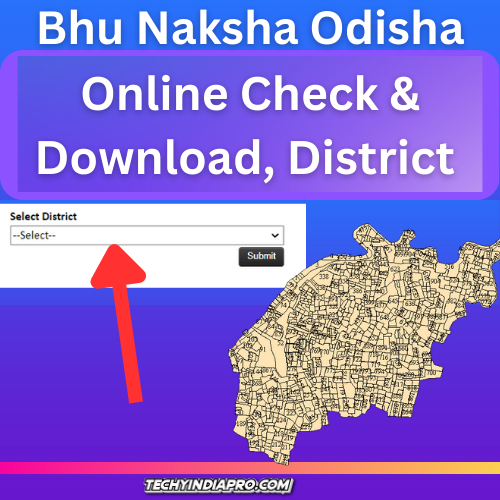 Bhu Naksha Odisha Overview 2023
| | |
| --- | --- |
| Portal Name | Bhulekh land map Odisha. |
| state name | Odisha |
| started by | by the state government |
| official website | Bhunakshaodisha Odisha / bhunakshaodisha.nic.in |
| District | All Districts |
| Department | Revenue & Disaster Management Department Government Of Odisha |
Bhu Naksha Odisha 2023: Online Check & Download, District Wise
The process to View Odisha Bhunaksha Online
Now we will discuss how to watch Odisha Bhunaksha online. We put below 1 in 1 step the complete process of watching Odisha Bhunaksha online.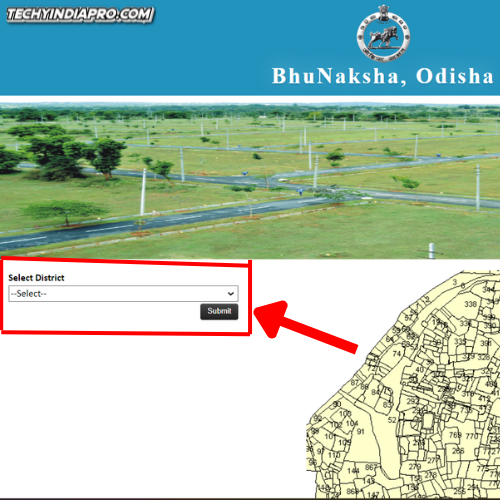 First, open the official website of Bhu Naksa Odisha.
The website is bhunakshaodisha.nic.in.
After that, you will see a home page.
Then you can see an option called Select the district option
So through the options button, you need to select your district.
Then click on Submit button.
See some more options to select.
District, tehsil, re, village, and sheet number.
So fill in all the options on this page, and you will see a complete land record or map of your selected options.
You can see land records through plot numbers also.
You need to put Plot Number on the Plot number box and click on the search icon.
If you want to download or print this land map so then click the button CTRL+P on your Computer or laptop to print the page.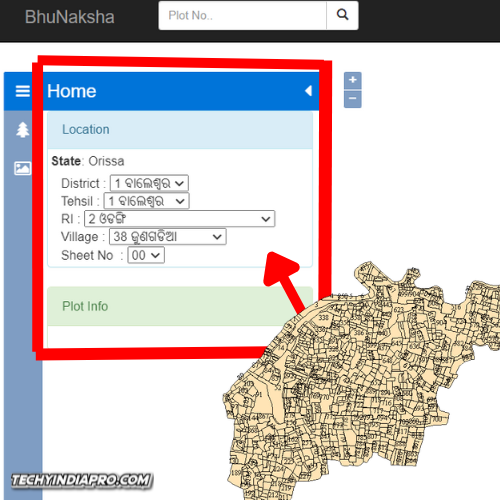 Bhu Naksha Odisha Eligibility
The user must be a citizen of Orissa to use this portal.
Bhu Naksha Odisha Documents
To download or view land records of Bhu Naksa Odisha, you need some documents to view land records. We name all documents below.
Aadhaar Card
Voter ID
Ration Card
Proof of property
Encumbrance certificate EC
Land Tax
Income certificate
Bhunaksha Odisha Helpline
If you are facing any kind of problem in getting the land map of your land, you can register your problem by contacting the Bhunaksh Odisha office.
Bhu Naksha Odisha Benefit
You don't need to go to the Tehsil office for the land record. You will get your land record in your home. You can find the exact geographical location of your land on the Odisha Vu Naksha Portal. The people of Odisha can see everything related to their land.
Bulekh map work can be done online to save time and money. People can easily do their work at home for some time. People of Odisha can easily print their land map through the Bhunaksha Odisha website
Read also: Bhulekh UP : यूपी भूलेख (upbhulekh.gov.in) खसरा/खतौनी कैसे देखें?
Bhunaksha List of Odisha Districts
| | |
| --- | --- |
| finger | Kendujhar |
| Buddhist | Kalahandi |
| Balangir | Kandhamal |
| Bargarh | Koraput |
| Balasore | Kendrapara |
| Bhadrak | Malkangiri |
| Ridge | Mayurbhanj |
| Deogarh | Nabarangpur |
| Dhenkanal | Nuapada |
| Ganjam | Nayagarh |
| Gajapati | Puri |
| Jharsuguda | Rayagada |
| Jajpur | Sambalpur |
| Jagatsinghpur | Subarnapur |
| Khordha | Sundergarh |
Bhunaksha List of Odisha Districts
How to View Odisha Bhunaksha Online
You need to visit the official website of the "Bhu Naksha Odisha". Then select your district and click the submit button. after that, you will see one more page to select your full details like Vilage, RI, Tehsil, and Sheet No. Then you can see Odisha Bhunaksha.
What is Odisha Bhunaksha's Official Website
Bhu Naksha Odisha Eligibility
The user must be a citizen of Orissa to use this portal.
Conclusion
In this article, we have discussed Bhu Naksha Odisha. How do you get land records in your home, how can you print your land map, etc? Hope you like this post, so share this post with your friends and family members and bookmark this website for regular updates.
Read also: Bihar Bhumi – Bhumi Jankari Bihar कैसे चेक करें, biharbhumi.bihar.gov.in 2023